Product Description
Product Feature
Product Specifications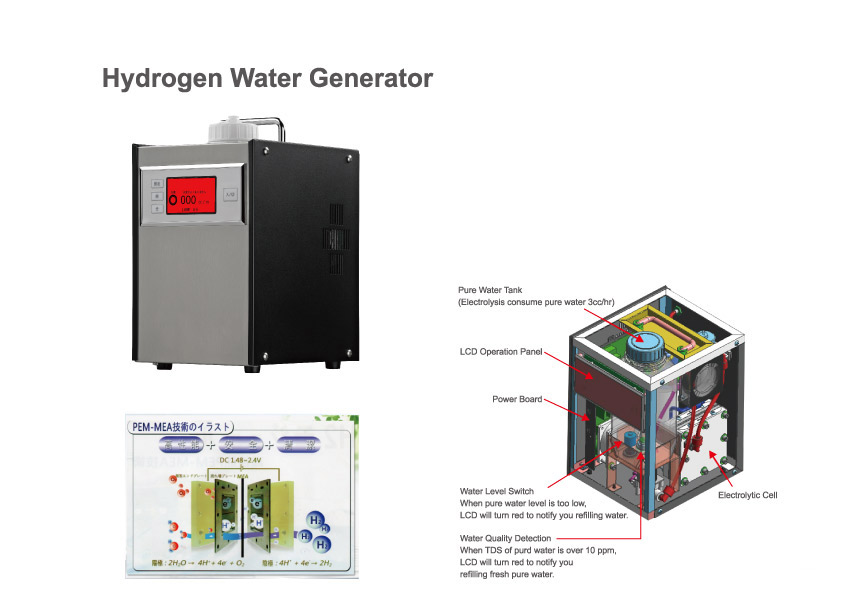 Features & Advantages:
The machine produces Hydrogen automatically.
Each function has displayed on the LCD screen. It's light, small, easy to operate and maintain.
The technology of proton adsorption can distribute and remove Oxygen to keep Hydrogen.
The purity of Hydrogen production is high than 99.9995%. The flow is stable and safe to use.
Produce and use Hydrogen immediately. Breathe in and absorb Hydrogen fast.
The quantity of Hydrogen production is designed for suit human breath and absorption 150~200cc/m.
| | | |
| --- | --- | --- |
| Category | Unit | HY-60 |
| Hydrogen Purity | % | dew point < -66°C, O2 < 5ppm |
| Output Pressure (MAX) | Bar | H Type: 5Bar |
| Output Flow | cc/min | 200 |
| Pressure Protection Mechanism | - | two |
| Boot System Detection | - | yes |
| Internal Blocking Detection | - | yes |
| Pure Water Purity (Impedance Value) | MΩ.cm | 1 |
| Input Voltage | V | AC 100~240 |
| Water Consumption | cc/min | 0.33 |
| Power Consumption | Watt | |
| Size (LxWxH) | cm | 21 x 19 x 28 |
| Weight | kg | 8 |
| Operation Temperature | °C | 5~50 |
| Output Connector Size | inch | 1/8 |