Product Description
Product Feature
Instant Hot Water Dispenser W-301 - Pressure Free Type
Technology

:

LED monitor displays the water temperature, filter lifetime, and indicate the water quality.

Energy-efficiency:

Setting time of start-up and shutdown for less electricity consumption.

Safety:

Smart safety lock design prevents burns.

Intelligent:

Automatic smart faucet has multi-function usage, and is fashionable and practical. The insulated faucet body and spout prevent burns.

New Invention:

Self-priming expansion chamber greatly reduces the dripping (the flaw of traditional instant hot water dispenser)

Convenience:

Design of re-boil function to keep water hot.
Creative:Elevation angle design of the front panel on smart faucet offers clear display, and conforms to ergonomics.
Panel Operation Instruction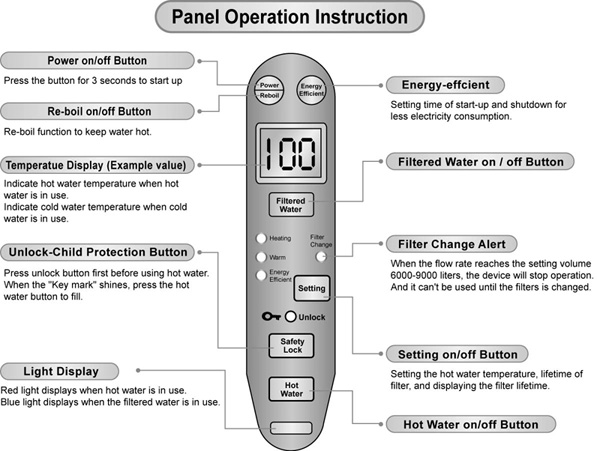 [New Invention] Diana Patented Self-priming Expansion Chamber
■ Through the chamber and atmospheric pressure during heating, the self-priming expansion chamber
absorbs the steam back for recycling usage. This new design greatly reduces the dripping (the flaw of
traditional instant hot water dispenser).
■ Due to the high temperature of water during heating, the tank is under pressure.
The self-priming expansion chamber can decrease the pressure, prevent explosion, dripping and leak.
Installation
New Cuisine Culture by Hot Water Heater
Cooking . Boiling

Spend less time in soup boiling and instant noodles softening.
Blanch

Use hot water to blanch the meat or vegetable.
Steaming

When steaming the foods or snakes, input hot water to save time.
Drink

Use hot water to make coffee, tea, and herbal tea for your customers is faster.
Cleanse Oil

Flush the dishes and plates by hot water first to cleanse the adhesive oil then wash by detergent could ave the time and water.
Hot Water Cleansing

Hot water kills bacteria, could use it to cleanse cutting board, wiper, and feeding bottle.