Product Serial : HY-60
| | |
| --- | --- |
| Hydrogen Purity | dew point < -66°C, O2 < 5ppm |
| Output Pressure (MAX) | H Type: 5Bar |
| Output Flow | 200cc/min |
| Pressure Protection Mechanism | two |
| Boot System Detection | yes |
| Internal Blocking Detection | yes |
| Pure Water Purity (Impedance Value) | 1MΩ.cm |
| Input Voltage | AC 100~240V |
| Water Consumption | 0.33cc/min |
| Size (LxWxH) | 21cm x 19cm x 28cm |
| Weight | 8kg |
| Operation Temperature | 5~50°C |
| Output Connector Size | 1/8inch |
Product Description
Product Feature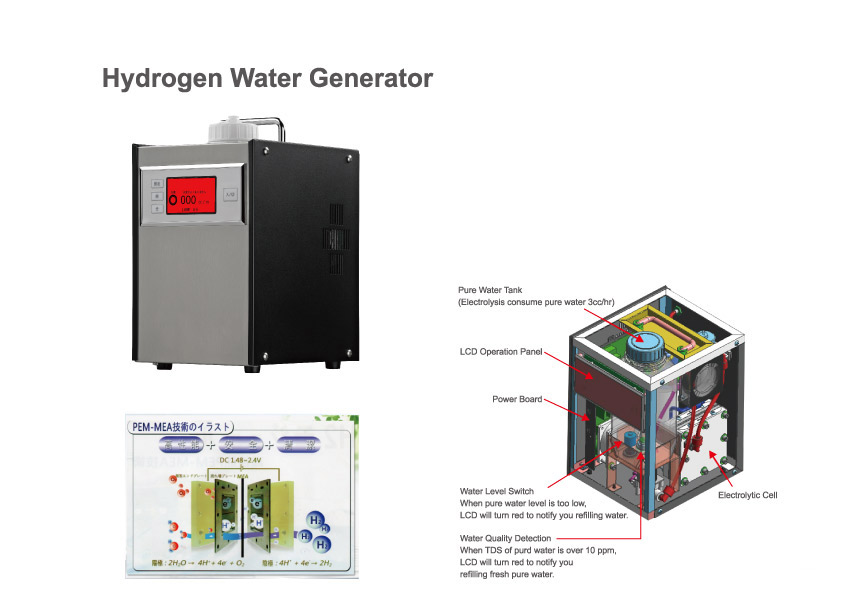 Our mission
Molecular hydrogen is the lightest and most abundant element in the universe, and it brings on its extraordinary destiny. Since 2007, professor Shigeo Ohta from Nippon Medical School of Japan found hydrogen acts as a therapeutic antioxidant by selectively reducing cytotoxic oxygen radicals, medical application in human body of hydrogen has been in vigorous development.
We have been developing and designing H2 apparatus since 2013, as we believe molecular hydrogen, which is crucially helpful in "healthy aging", will play an important role in beauty and healthcare Industry. We firmly believe it is only the purist H2 can be helpful to human bodies, and any other by-product will be harmful to health. We will keep our creed in mind and apply the best user experience principles in our work.
Features & Advantages:
Generate hydrogen 100ml per minuteThe machine produces Hydrogen automatically.
Each function has displayed on the LCD screen. It's light, small, easy to operate and maintain.
The technology of proton adsorption can distribute and remove Oxygen to keep Hydrogen.
The purity of Hydrogen production is high than 99.9995%. The flow is stable and safe to use.
Produce and use Hydrogen immediately. Breathe in and absorb Hydrogen fast.
The quantity of Hydrogen production is designed for suit human breath and absorption 150~200cc/m.